Hi,
I released version 0.3.0 of the satnogs-monitor last night. This release adds some visualization of the received signal of the current observation in form of a spectrum and waterfall plot. Note that this only works if the satnogs-monitor runs on the same machine as the satnogs-client.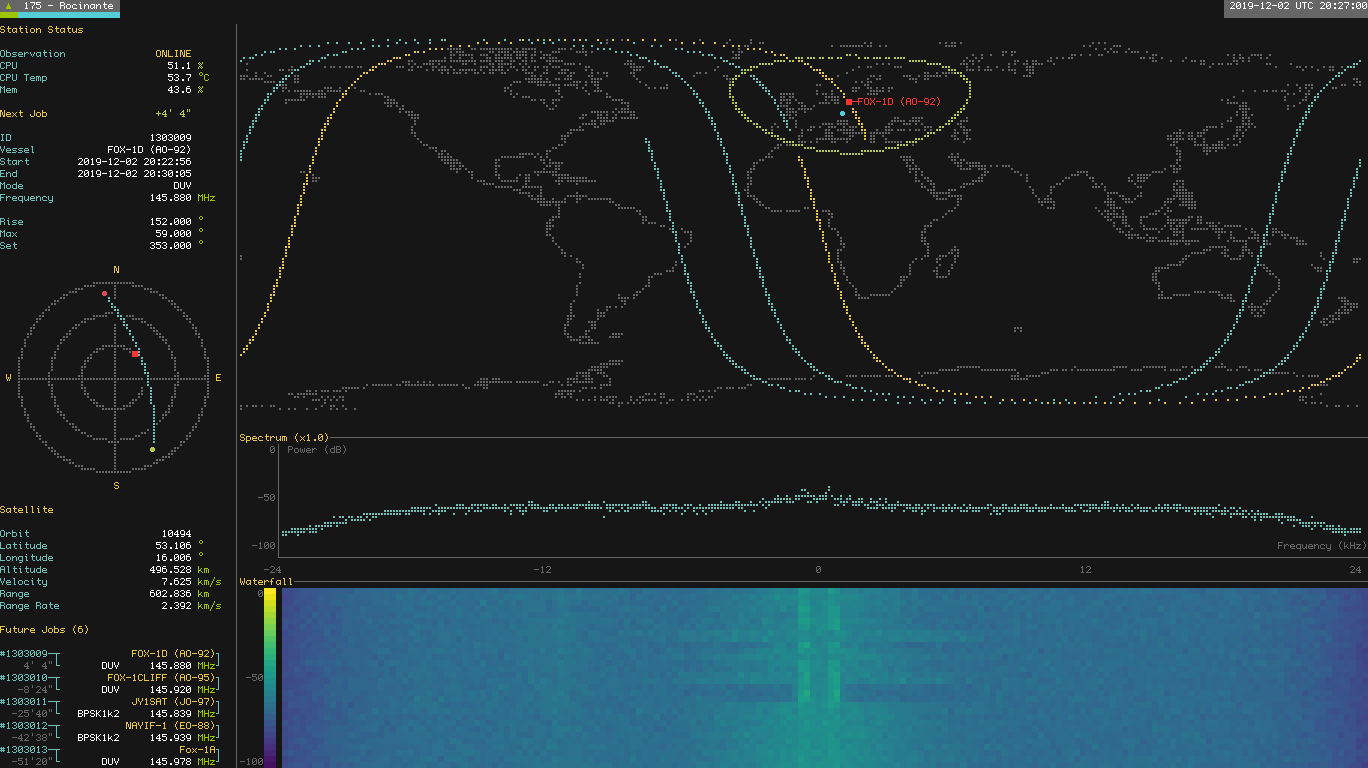 This screenshot shows satnogs-monitor running on the RPi of station 175 over ssh using alacritty as a terminal emulator. You can enable the spectrum and waterfall plot independently. You will also need a true color terminal for the waterfall to look nice. The performance depends only on the link quality of your ssh connection and was quite good even on my laggy wifi connection to the station. Rendering the new widgets had no measureable impact on the stations operation (tested on a RPi 3B+).
To update an existing installation on your RPi run:
wget https://github.com/wose/satnogs-monitor/releases/download/0.3.0/satnogs-monitor_0.3.0_armhf.deb
sudo dpkg -i satnogs-monitor_0.3.0_armhf.deb

If you're doing a fresh install make sure you got all the dependencies as described in the wiki first.
For the spectrum an waterfall plot you'll need to set the SatNOGS data path as well:
$ satnogs-monitor -l 175 --data-path /tmp/.satnogs/data/ --waterfall --spectrum

The plots will appear as soon as an observation has started an satnogs-client creates the waterfall file. I'll update the wiki page later today. I've updated the wiki to reflect the changes in the new version.
The range of both the spectrum and the waterfall plot is hard coded to 0;-100 dB. This will change soonish to be configureable by the user. There are some other ideas and functions which are not implemented yet (like waterfall zooming). I'll create github issues to keep track of them. Feel free to add your own ideas and use cases.
You'll find the repository here: