Greetings,
Ever since we started collecting telemetry frames, both through SatNOGS observations and through SIDS submissions, I have been wondering how we could define a "telemetry frame" for NOAA APT observations. Currently, we are uploading decoded images in PNG format and this is a good beginning. However, a more formal definition for an APT frame is IMO needed, in particular if we want to accept NOAA APT data through SIDS submissions.
Revisiting the APT specification I realized that it does actually define a complete APT frame as 128 lines: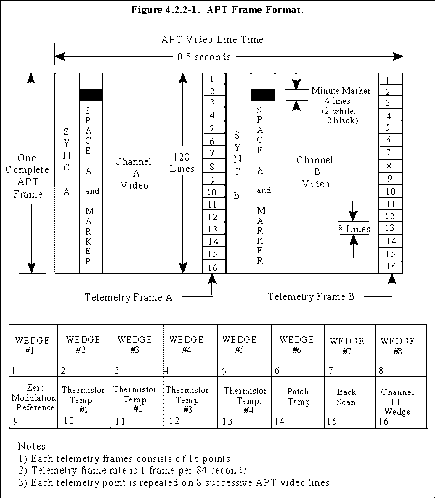 So, a complete APT frame consists of 128 x 2080 samples (words), where each sample is 8 bits. The number of lines / frame could be discussed, but 128 sounds like a reasonable value.
Clearly, this would increase the amount of data submitted compared to PNG files, on the other hand, it would support interpretation of the embedded telemetry data without the need to parse PNG files.
What do you think?