// Warning - Very Long & Boring text before the Start of the interesting stuff

//
Hi,
I'm a 15 years old French teen (so i think my english is going to be bad;-),
I'm passionate by everything who can fly, drone, planes… Satellites !
And overall I try to be a Maker !
-1 year ago I had the chance to participate to a CubeSat project with my physic professor, we created and programmed a CubeSat that today can take photo, display sensor data send GPS coordinates and all that wireless with a python interface, this project made me really want to learn and to interest me more about space !
-So after hours spent on the internet I found one day the Satnogs project, and the first thing that I thinked was (like every teen say every time he found something cool), "huuu this is soo coool I want one" So i decided to build my own rotator, why do I said "my own" because I didn't builded the rotator v3, and that for many reason,
I always want to do the more things by my self, and I know that this is not english but i want to do "by my brain", like that I do a lot of bad thing and with this "errors" I learn a lot
I heard that for some reason (3D printed part) that the rotator V3 wasn't very durable, and not very strong (only 30 Nm) I wanted to build something more durable (all metal) and more Strong (with the calculation this is 120 Nm, so with the friction lets say 80Nm)
-In the same time i learned to use Fusion 360, so it was a good exercise to… yeah learn
-I had an aluminium box that i always wanted to reuse for another project
And oooveraal… as a teen I didn't had the ~ $220 to build the rotator V3 ( Mine costed me (without the box that i already had) ~ 105 €)
// Well done you succeeded to read my boring speech

//
-Soo Enough spoken now its time for the good stuff, taaa daaam :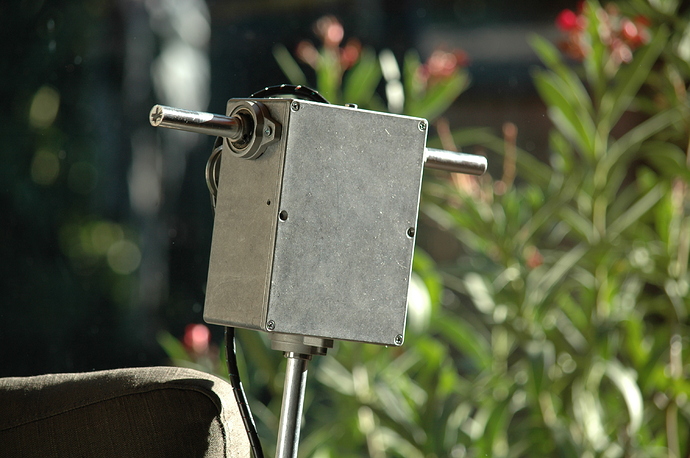 DSC_3290.jpg
(If u guys want more photos feel free to ask, but as a new user i can only post one photo and also i don't know if this is interesting or not)
Like I said before he :
/+/
is All metal so durable
cost ~ 105 € if you already have a box or 125€ if u need to buy one
("the mecanics") can be mounted the on every box !
Waterproof
Don't need to have a 3D printer
/-/
is Super Heavy (more than 2kg)
is A bit hard to replicate hundreds of times
-If somebody is interested i can share the CAD file of this "Box mountable" Rotator
-I can also share the "to buy" list
-And if really ur interested in, i could maybe think to create a "Kit" with all what you need and the machined aluminum box
Just fell free to say me what u want !
-But what i really would like to know is your opinion on my work, what you find good, AND very IMPORTANT what you find bad and that i can do better !
Why did I posted this ?
To share my work, to help people who maybe want the same thing that i wanted AND to have your opinion (and also to prove to my father that I speak better english than him lol

Best Regards
Yoyo