The downlink frequency is 2.245 GHz
Thanks for that information, what mode is being used on S-band?
Thank you!!
And what bandwidth & modulation?
I see about the ITU but I'm talking about IARU coordination and in their site for TAUSAT it only refers to one satellite that will be deployed from ISS. If this needs an update please contact IARU and let us know about any updates.
New TLE sets for ION deployers:
ION SCV-007
1 99216U          23015.40000000  .00000000  00000-0  00000-0 0    05
2 99216  97.4044  77.1546 0009101  65.6934  87.2878 15.12556464    00
ION SCV-008
1 99217U          23015.40000000  .00000000  00000-0  00000-0 0    06
2 99217  97.3472  77.2726 0009101  62.8584  88.3360 15.11879028    07

ion-7-1.dat (1.7 KB)
ion-8-1.dat (1.8 KB)
sites.txt (2.0 KB)
Sharjahsat-1 satellite has been added in DB with the temporary NORAD ID 99204. It is expected to be deployed on 2023-01-16.
Thought I had the first TAUSAT decodes over the Eastern U.S. around 0236utc, but there turned out to be an absolute beehive of objects transmitting 9k6 BPSK around 436.400 along the track of that ION-8 estimated TLE!
The first 'live' decode was a T8GBS call sign & later more decodes from T5SNG. There were a LOT of other packets visible in the area as well, just too weak to decode. So, it will be tricky to find TAUSAT in that mix - at least until they spread out. Nothing seen on 2245 MHz S-Band.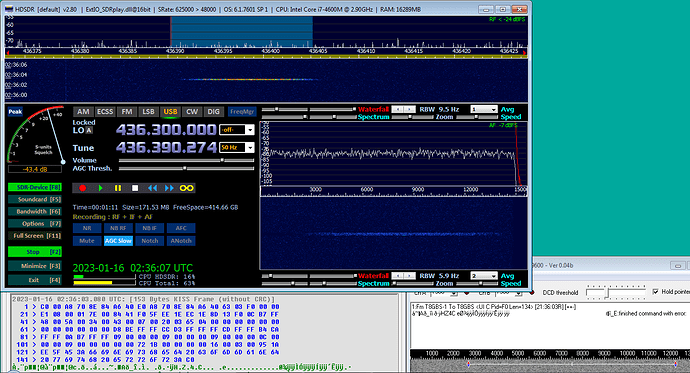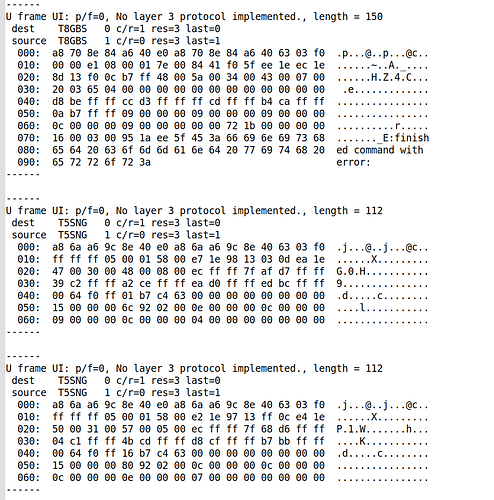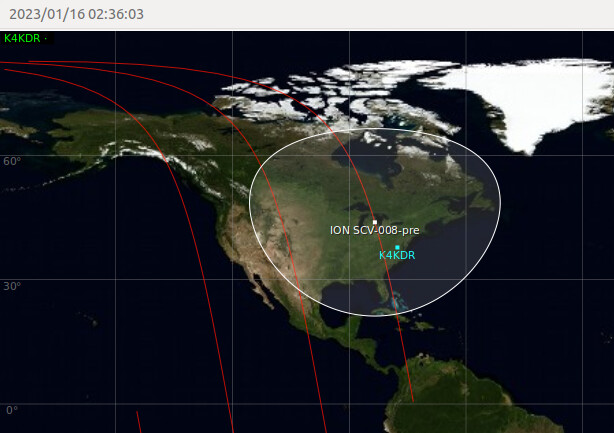 Good morning Scott, those are Tevel satellites you received.
TLE set for SharjahSat-1 which has been deployed at 2023-01-16 10:03 UTC
1 99204U 14999A   23016.41888889  .00000000  00000-0  00000-0 0    05
2 99204  97.6296  78.0278 0013662 167.2056 131.2113 15.12764601    07

SharjahSat-1 is received: SatNOGS Network - Observations
However it seems that its interval is big enough to get several signals on one pass, this probably will make it difficult to identify.
Thanks very much! Was wondering who those packets were from.
Has anyone confirmed the ax.25 callsign is for this satellite? I am seeing A60UOS as source and A62UOS as destination for a single frame I received.
Same for several frames in the satnogs observations database. Does anyone know if correct or something else? Thanks.
Bob
N6RFM
Thank You @fredy . BTW, from a low SharajSat-1 pass, I observed a 5 minute interval between frames. Good hunting all.
Bob
N6RFM
Newer TLE set for SharajSat-1 by @PE0SAT
SharajSat-1
1 99204U          23016.41888889  .00000000  00000-0  00000-0 0    03
2 99204  97.6296  78.0278 0013662 167.2056 129.6329 15.12764601    07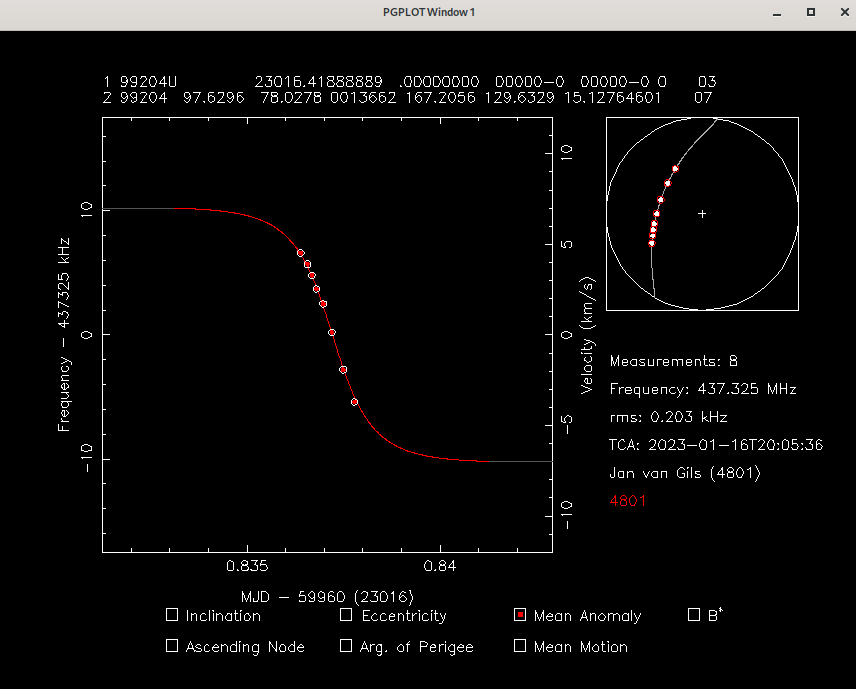 New TLE set for Sharjahsat-1:
Sharjahsat-1
1 99204U          23018.70000000  .00000000  00000-0  00000-0 0    08
2 99204  97.6296  80.1351 0000650 275.2593 190.7600 15.11924676    02

New TLE sets from spacetrack, some of them in TBA status. They are 95 in total, given that some satellites have been deployed from the deployers, probably we have some missing. We will still need to wait for any identification:
0 OBJECT A
1 55009U 23001A   23018.15873575  .00006307  00000-0  37173-3 0  9990
2 55009  97.5019  80.0133 0010393 174.9100 185.2238 15.11887126  2354
0 OBJECT B
1 55010U 23001B   23018.15787332  .00010611  00000-0  61965-3 0  9996
2 55010  97.5042  80.0191 0010847 176.3034 183.8279 15.12050135  2354
0 OBJECT C
1 55011U 23001C   23018.15754539  .00009993  00000-0  58341-3 0  9995
2 55011  97.5070  80.0246 0011245 178.0617 182.0659 15.12071510  2359
0 OBJECT D
1 55012U 23001D   23018.15649419  .00007690  00000-0  44890-3 0  9992
2 55012  97.5089  80.0301 0012032 176.8346 183.2963 15.12147323  2359
0 OBJECT E
1 55013U 23001E   23018.41990779  .00018789  00000-0  10827-2 0  9993
2 55013  97.5001  80.2731 0010627 164.5095 195.6463 15.12396084  2392
0 OBJECT F
1 55014U 23001F   23018.41962239  .00019639  00000-0  11302-2 0  9998
2 55014  97.5040  80.2829 0011481 171.7682 188.3739 15.12425492  2396
0 OBJECT G
1 55015U 23001G   23018.41971605  .00011093  00000-0  64241-3 0  9993
2 55015  97.5076  80.2899 0011985 172.2198 187.9221 15.12325971  2392
0 OBJECT H
1 55016U 23001H   23018.42009221  .00007838  00000-0  45640-3 0  9995
2 55016  97.5004  80.2753 0011743 169.7664 190.3808 15.12236309  2399
0 OBJECT J
1 55017U 23001J   23018.41888685  .00017587  00000-0  10112-2 0  9991
2 55017  97.4980  80.2727 0011157 167.0157 193.1363 15.12485677  2391
0 OBJECT K
1 55018U 23001K   23018.41889545  .00016868  00000-0  97054-3 0  9990
2 55018  97.5018  80.2800 0011451 166.8823 193.2708 15.12466268  2390
0 OBJECT L
1 55019U 23001L   23018.41883982  .00016716  00000-0  96166-3 0  9995
2 55019  97.5051  80.2865 0011742 169.2241 190.9244 15.12471338  2396
0 OBJECT M
1 55020U 23001M   23018.41859393  .00011262  00000-0  65007-3 0  9997
2 55020  97.5023  80.2801 0011777 164.4708 195.6886 15.12443657  2397
0 OBJECT N
1 55021U 23001N   23018.15409013  .00007358  00000-0  42689-3 0  9991
2 55021  97.5018  80.0187 0011829 161.4878 198.6785 15.12386387  2353
0 OBJECT P
1 55022U 23001P   23018.41793079  .00008075  00000-0  46643-3 0  9990
2 55022  97.5022  80.2802 0012113 158.3376 201.8369 15.12510990  2398
0 OBJECT Q
1 55023U 23001Q   23018.41854573  .00012008  00000-0  69306-3 0  9990
2 55023  97.5052  80.2883 0011879 162.1530 198.0120 15.12430566  2396
0 OBJECT R
1 55024U 23001R   23018.15325372  .00007145  00000-0  41317-3 0  9990
2 55024  97.5045  80.0262 0011902 168.1943 191.9569 15.12514127  2350
0 OBJECT S
1 55025U 23001S   23018.41755680  .00012100  00000-0  69583-3 0  9991
2 55025  97.5052  80.2896 0012158 164.8923 195.2674 15.12556429  2398
0 OBJECT T
1 55026U 23001T   23018.41778733  .00011586  00000-0  66710-3 0  9992
2 55026  97.5015  80.2779 0012648 157.4728 202.7061 15.12517609  2394
0 OBJECT U
1 55027U 23001U   23018.41764106  .00011478  00000-0  66090-3 0  9993
2 55027  97.5010  80.2786 0012129 163.2369 196.9265 15.12524176  2395
0 OBJECT V
1 55028U 23001V   23018.48330580  .00011786  00000-0  67701-3 0  9998
2 55028  97.5025  80.3457 0013020 156.5395 203.6433 15.12594882  2409
0 OBJECT W
1 55029U 23001W   23018.41749706  .00011808  00000-0  67936-3 0  9991
2 55029  97.5049  80.2908 0012326 161.2762 198.8925 15.12542112  2393
0 OBJECT X
1 55030U 23001X   23018.15263135  .00008408  00000-0  48470-3 0  9995
2 55030  97.5012  80.0184 0012483 161.1757 198.9938 15.12565994  2350
0 OBJECT Y
1 55031U 23001Y   23018.41721577  .00011161  00000-0  64191-3 0  9992
2 55031  97.5057  80.2918 0012353 163.7208 196.4422 15.12570545  2395
0 OBJECT Z
1 55032U 23001Z   23018.41664794  .00009171  00000-0  52717-3 0  9999
2 55032  97.5020  80.2800 0013421 157.1892 202.9938 15.12631004  2392
0 OBJECT AA
1 55033U 23001AA  23018.15214417  .00006925  00000-0  39955-3 0  9997
2 55033  97.5000  80.0175 0012550 162.7244 197.4416 15.12602058  2351
0 OBJECT AB
1 55034U 23001AB  23018.41694145  .00007556  00000-0  43618-3 0  9999
2 55034  97.5034  80.2879 0013027 159.9318 200.2428 15.12547753  2392
0 OBJECT AC
1 55035U 23001AC  23018.41000787  .00011683  00000-0  65699-3 0  9992
2 55035  97.5011  80.2870 0015853 163.3068 196.8688 15.13324834  2391
0 OBJECT AD
1 55036U 23001AD  23018.41080055  .00034448  00000-0  19170-2 0  9995
2 55036  97.5034  80.2919 0014673 165.6771 194.4879 15.13472337  2394
0 OBJECT AE
1 55037U 23001AE  23018.47239721  .00023202  00000-0  12807-2 0  9994
2 55037  97.5057  80.3693 0016464 159.7816 200.4071 15.13825679  2409
0 OBJECT AF
1 55038U 23001AF  23017.74367477  .00016238  00000-0  89437-3 0  9999
2 55038  97.5072  79.6580 0017447 164.6091 195.5675 15.13964798  2292
0 TBA - TO BE ASSIGNED
1 55039U 23001AG  23018.61464671  .00014653  00000-0  83712-3 0  9990
2 55039  97.5010  80.4731 0013365 157.7116 202.4698 15.12733257  2420
0 TBA - TO BE ASSIGNED
1 55040U 23001AH  23018.61459072  .00010996  00000-0  63028-3 0  9995
2 55040  97.5063  80.4906 0012736 164.5743 195.5879 15.12691301  2423
0 TBA - TO BE ASSIGNED
1 55041U 23001AJ  23018.61270808  .00008063  00000-0  46123-3 0  9993
2 55041  97.5031  80.4851 0013998 161.6625 198.5113 15.12841864  2421
0 TBA - TO BE ASSIGNED
1 55042U 23001AK  23018.61476062  .00007626  00000-0  43895-3 0  9991
2 55042  97.5004  80.4730 0013045 159.4134 200.7625 15.12647297  2429
0 TBA - TO BE ASSIGNED
1 55043U 23001AL  23018.61424194  .00008027  00000-0  46094-3 0  9991
2 55043  97.5054  80.4902 0012713 162.8212 197.3451 15.12719807  2427
0 TBA - TO BE ASSIGNED
1 55044U 23001AM  23018.61454003  .00008992  00000-0  51628-3 0  9994
2 55044  97.5074  80.4917 0013162 166.8478 193.3099 15.12681772  2426
0 TBA - TO BE ASSIGNED
1 55045U 23001AN  23018.61420726  .00010022  00000-0  57416-3 0  9998
2 55045  97.5033  80.4800 0013969 158.0902 202.0929 15.12720643  2424
0 TBA - TO BE ASSIGNED
1 55046U 23001AP  23018.68052962  .00005324  00000-0  30767-3 0  9998
2 55046  97.5040  80.5514 0013242 161.0598 199.1128 15.12646056  2438
0 TBA - TO BE ASSIGNED
1 55047U 23001AQ  23018.67986731  .00010049  00000-0  57485-3 0  9994
2 55047  97.5032  80.5438 0014225 158.3644 201.8191 15.12769503  2432
0 TBA - TO BE ASSIGNED
1 55048U 23001AR  23018.67967365  .00009587  00000-0  54855-3 0  9990
2 55048  97.5032  80.5501 0013654 160.3298 199.8462 15.12782537  2436
0 TBA - TO BE ASSIGNED
1 55049U 23001AS  23018.61286827  .00013053  00000-0  74290-3 0  9990
2 55049  97.5037  80.4819 0014266 160.1501 200.0288 15.12886711  2427
0 TBA - TO BE ASSIGNED
1 55050U 23001AT  23018.67788665  .00032317  00000-0  18129-2 0  9997
2 55050  97.5034  80.5532 0013411 162.8026 197.3663 15.13214743  2438
0 TBA - TO BE ASSIGNED
1 55051U 23001AU  23018.67922687  .00004789  00000-0  27605-3 0  9994
2 55051  97.5037  80.5479 0014607 160.8922 199.2860 15.12770546  2430
0 TBA - TO BE ASSIGNED
1 55052U 23001AV  23018.67851531  .00013921  00000-0  79072-3 0  9997
2 55052  97.5029  80.5506 0013953 161.5741 198.5998 15.12944981  2433
0 TBA - TO BE ASSIGNED
1 55053U 23001AW  23018.67876772  .00004504  00000-0  25962-3 0  9998
2 55053  97.5042  80.5498 0014725 161.8609 198.3150 15.12804158  2432
0 TBA - TO BE ASSIGNED
1 55054U 23001AX  23018.67848027  .00006150  00000-0  35263-3 0  9995
2 55054  97.5024  80.5504 0013997 162.4663 197.7053 15.12854856  2433
0 TBA - TO BE ASSIGNED
1 55055U 23001AY  23018.67781734  .00011567  00000-0  65653-3 0  9991
2 55055  97.5032  80.5453 0014922 160.2787 199.9024 15.13004224  2437
0 TBA - TO BE ASSIGNED
1 55056U 23001AZ  23018.67732062  .00011098  00000-0  62985-3 0  9996
2 55056  97.5029  80.5520 0014104 163.6475 196.5214 15.13031459  2436
0 TBA - TO BE ASSIGNED
1 55057U 23001BA  23018.67685862  .00011921  00000-0  67497-3 0  9990
2 55057  97.5043  80.5587 0013803 165.6241 194.5385 15.13100779  2433
0 TBA - TO BE ASSIGNED
1 55058U 23001BB  23018.67880455  .00011009  00000-0  62755-3 0  9995
2 55058  97.5029  80.5501 0014025 161.9317 198.2415 15.12876486  2433
0 TBA - TO BE ASSIGNED
1 55059U 23001BC  23018.67842103  .00017364  00000-0  98362-3 0  9997
2 55059  97.5026  80.5505 0013915 161.8414 198.3317 15.12992977  2435
0 TBA - TO BE ASSIGNED
1 55060U 23001BD  23018.74795811  .00004127  00000-0  24600-3 0  9997
2 55060  97.5021  80.6101 0018502 177.7820 182.3496 15.11584331  2441
0 TBA - TO BE ASSIGNED
1 55061U 23001BE  23018.01584650  .00003361  00000-0  19396-3 0  9990
2 55061  97.5031  79.9031 0013631 168.4381 191.7166 15.12949680  2332
0 TBA - TO BE ASSIGNED
1 55062U 23001BF  23018.74266253  .00013288  00000-0  75065-3 0  9991
2 55062  97.5041  80.6168 0014755 164.0825 196.0873 15.13144619  2442
0 TBA - TO BE ASSIGNED
1 55063U 23001BG  23018.74012453  .00008063  00000-0  45457-3 0  9990
2 55063  97.5059  80.6289 0015699 166.6115 193.5536 15.13343694  2446
0 TBA - TO BE ASSIGNED
1 55064U 23001BH  23018.74153336  .00011085  00000-0  62555-3 0  9993
2 55064  97.5040  80.6241 0014612 167.2224 192.9381 15.13229279  2440
0 TBA - TO BE ASSIGNED
1 55065U 23001BJ  23018.74116037  .00011681  00000-0  65787-3 0  9993
2 55065  97.5069  80.6288 0015329 165.4573 194.7102 15.13278040  2447
0 TBA - TO BE ASSIGNED
1 55066U 23001BK  23018.74066061  .00011965  00000-0  67290-3 0  9991
2 55066  97.5051  80.6271 0015255 167.0703 193.0922 15.13323133  2448
0 TBA - TO BE ASSIGNED
1 55067U 23001BL  23018.73814249  .00029599  00000-0  16335-2 0  9995
2 55067  97.5081  80.6355 0015841 165.5429 194.6259 15.13788970  2448
0 TBA - TO BE ASSIGNED
1 55068U 23001BM  23018.73936200  .00011987  00000-0  67140-3 0  9991
2 55068  97.5006  80.6142 0016279 161.7140 198.4680 15.13455081  2448
0 TBA - TO BE ASSIGNED
1 55069U 23001BN  23018.73943118  .00011295  00000-0  63343-3 0  9991
2 55069  97.5040  80.6263 0015363 169.3017 190.8544 15.13438712  2448
0 TBA - TO BE ASSIGNED
1 55070U 23001BP  23018.73939809  .00011855  00000-0  66366-3 0  9995
2 55070  97.5001  80.6138 0015990 159.6835 200.5036 15.13478890  2440
0 TBA - TO BE ASSIGNED
1 55071U 23001BQ  23018.73971342  .00011874  00000-0  66582-3 0  9995
2 55071  97.5016  80.6154 0016117 163.6384 196.5371 15.13419721  2445
0 TBA - TO BE ASSIGNED
1 55072U 23001BR  23018.73964828  .00016034  00000-0  89605-3 0  9991
2 55072  97.5063  80.6287 0015967 163.7209 196.4539 15.13470857  2446
0 TBA - TO BE ASSIGNED
1 55073U 23001BS  23018.74011891  .00014540  00000-0  79699-3 0  9998
2 55073  97.5036  80.6199 0017960 145.0095 215.2321 15.14153716  2442
0 TBA - TO BE ASSIGNED
1 55074U 23001BT  23018.73874198  .00011591  00000-0  64784-3 0  9997
2 55074  97.5047  80.6285 0015856 168.2165 191.9440 15.13545754  2446
0 TBA - TO BE ASSIGNED
1 55075U 23001BU  23018.73881828  .00012687  00000-0  70922-3 0  9994
2 55075  97.5025  80.6185 0016095 166.2037 193.9637 15.13513015  2449
0 TBA - TO BE ASSIGNED
1 55076U 23001BV  23018.74230798  .00006127  00000-0  34890-3 0  9996
2 55076  97.5029  80.6145 0015366 163.7295 196.4432 15.13088911  2441
0 TBA - TO BE ASSIGNED
1 55077U 23001BW  23018.73863410  .00011975  00000-0  66920-3 0  9995
2 55077  97.5052  80.6288 0016209 166.2206 193.9471 15.13536530  2443
0 TBA - TO BE ASSIGNED
1 55078U 23001BX  23018.73852139  .00011644  00000-0  65077-3 0  9997
2 55078  97.5010  80.6174 0016443 160.5345 199.6518 15.13538492  2447
0 TBA - TO BE ASSIGNED
1 55079U 23001BY  23018.73857662  .00011183  00000-0  62544-3 0  9998
2 55079  97.5043  80.6260 0016487 165.4063 194.7648 15.13521898  2441
0 TBA - TO BE ASSIGNED
1 55080U 23001BZ  23018.73828623  .00011569  00000-0  64607-3 0  9995
2 55080  97.5017  80.6188 0016694 162.9617 197.2178 15.13562515  2447
0 TBA - TO BE ASSIGNED
1 55081U 23001CA  23018.73859639  .00010017  00000-0  56087-3 0  9997
2 55081  97.5056  80.6286 0016696 162.5879 197.5928 15.13509567  2442
0 TBA - TO BE ASSIGNED
1 55082U 23001CB  23018.80443398  .00019064  00000-0  10610-2 0  9999
2 55082  97.5025  80.6864 0016553 161.3392 198.8449 15.13572008  2453
0 TBA - TO BE ASSIGNED
1 55083U 23001CC  23018.80436487  .00012184  00000-0  68012-3 0  9997
2 55083  97.5018  80.6843 0016750 162.9609 197.2188 15.13566118  2458
0 TBA - TO BE ASSIGNED
1 55084U 23001CD  23018.80386919  .00011543  00000-0  64383-3 0  9997
2 55084  97.5003  80.6830 0016401 156.0397 204.1601 15.13613152  2459
0 TBA - TO BE ASSIGNED
1 55085U 23001CE  23018.80326372  .00017485  00000-0  96877-3 0  9999
2 55085  97.5011  80.6848 0016697 159.1967 200.9947 15.13749201  2454
0 TBA - TO BE ASSIGNED
1 55086U 23001CF  23018.80308201  .00017721  00000-0  98117-3 0  9993
2 55086  97.5040  80.6919 0016708 158.7049 201.4881 15.13770402  2455
0 TBA - TO BE ASSIGNED
1 55087U 23001CG  23018.80269491  .00021298  00000-0  11755-2 0  9997
2 55087  97.5020  80.6881 0016610 158.1806 202.0137 15.13844458  2453
0 TBA - TO BE ASSIGNED
1 55088U 23001CH  23018.80269370  .00018001  00000-0  99517-3 0  9995
2 55088  97.5080  80.7001 0016946 159.3962 200.7956 15.13818116  2459
0 TBA - TO BE ASSIGNED
1 55089U 23001CJ  23018.80214441  .00019263  00000-0  10623-2 0  9996
2 55089  97.5017  80.6887 0016457 158.6467 201.5455 15.13898002  2455
0 TBA - TO BE ASSIGNED
1 55090U 23001CK  23018.80249837  .00015626  00000-0  86500-3 0  9992
2 55090  97.5043  80.6935 0017267 161.1157 199.0719 15.13797549  2453
0 TBA - TO BE ASSIGNED
1 55091U 23001CL  23018.80176381  .00022061  00000-0  12136-2 0  9990
2 55091  97.5018  80.6889 0016939 157.7452 202.4518 15.13951006  2454
0 TBA - TO BE ASSIGNED
1 55092U 23001CM  23018.80092508  .00025785  00000-0  14114-2 0  9993
2 55092  97.5021  80.6897 0018815 159.5295 200.6695 15.14065821  2456
0 TBA - TO BE ASSIGNED
1 55093U 23001CN  23018.80194120  .00013805  00000-0  76419-3 0  9994
2 55093  97.5018  80.6888 0017201 156.0635 204.1400 15.13827426  2450
0 TBA - TO BE ASSIGNED
1 55094U 23001CP  23018.80112306  .00025261  00000-0  13866-2 0  9996
2 55094  97.5014  80.6888 0015773 156.6920 203.5030 15.14016810  2452
0 TBA - TO BE ASSIGNED
1 55095U 23001CQ  23018.80110709  .00022074  00000-0  12119-2 0  9991
2 55095  97.5017  80.6896 0017175 157.3872 202.8120 15.14017523  2451
0 TBA - TO BE ASSIGNED
1 55096U 23001CR  23018.80098424  .00022022  00000-0  12086-2 0  9997
2 55096  97.5016  80.6899 0017216 157.3402 202.8593 15.14031718  2455
0 TBA - TO BE ASSIGNED
1 55097U 23001CS  23018.80080750  .00023779  00000-0  13035-2 0  9996
2 55097  97.5016  80.6900 0017325 157.3031 202.8971 15.14054857  2457
0 TBA - TO BE ASSIGNED
1 55098U 23001CT  23018.80131292  .00016483  00000-0  90868-3 0  9999
2 55098  97.5072  80.7004 0017528 157.3877 202.8131 15.13927741  2457
0 TBA - TO BE ASSIGNED
1 55099U 23001CU  23018.80073863  .00023639  00000-0  12957-2 0  9992
2 55099  97.5016  80.6900 0017319 157.3796 202.8202 15.14060192  2456
0 TBA - TO BE ASSIGNED
1 55100U 23001CV  23018.80074680  .00024868  00000-0  13622-2 0  9998
2 55100  97.5013  80.6894 0017699 157.7797 202.4205 15.14065043  2453
0 TBA - TO BE ASSIGNED
1 55101U 23001CW  23018.80015203  .00028252  00000-0  15413-2 0  9996
2 55101  97.5015  80.6905 0018069 156.5545 203.6515 15.14176784  2451
0 TBA - TO BE ASSIGNED
1 55102U 23001CX  23018.80035440  .00026223  00000-0  14339-2 0  9994
2 55102  97.5015  80.6904 0016773 160.3941 199.7939 15.14130772  2456
0 TBA - TO BE ASSIGNED
1 55103U 23001CY  23018.80117591  .00009792  00000-0  54279-3 0  9993
2 55103  97.5051  80.6964 0017803 155.6659 204.5417 15.13858383  2451

Until then here are the best fits on the satellites we have managed to receive:
| Satellite Identifier | Satellite Name | NORAD ID to Follow | Other Possible NORAD IDs | Notes |
| --- | --- | --- | --- | --- |
| DELH-6722-1461-1897-7938 | Sharjahsat-1 | 55040 | 55039, 55042(unlikely), 55044 | Received and set to follow OBJECT AH(51040) fits |
| NJFB-9884-9643-7739-4519 | BDSAT-2 | 55098 | 55038(unlikely), 55094(unlikely), 55095(unlikely), 55103 | Received and changed to follow for now only OBJECT CT(51098) fits |
| NJEX-6170-8600-1975-0468 | ION SCV-007 | 55051 | - | Received and for now only OBJECT AU(55051) fits |
| VPUU-7194-1121-2414-5647 | ION SCV-008 | 55033 | - | Received and for now only OBJECT AA(55033) fits |
| RJCF-5779-9216-5641-4111 | BRO-8 | 55011 | - | Received and for now only OBJECT C(55011) fits |
| PDVW-9191-3063-9872-9368 | Vigoride-5 | 55036 | - | No update |
| KCKF-9169-8304-1813-6974 | Platform-2 | 55067 | 55077-55083 | Received and changed to follow OBJECT BL(55067) fits |
| TVZK-1463-5590-8994-0377 | Connecta T1.2 | 55012 | - | Received and for now only OBJECT D(55012) fits |