Hi all, I am building the V3.1 rotator and having a lot of fun. What a great resource!
I have some thoughts and questions.
First, the instructions are all for V3, which is fine as that is the official release. Are there prototype Wiki pages for V3.1 which I can update with any changes or edits? Should we create them if there is not?
V3.1 did not have any imperial parts, so I have recreated those. The parts I have fit over standard white PVC pipe. I used 37mm internal diameter bearings. If anyone else needs the latest imperial parts I could supply. How do we store those, or are they just shared separately?
I built the V2.2 PCB and have a spare if anyone wants one. In fact I built V2.2 because that was what was uploaded to Oshpark and linked from the instructions. I didn't realize until later that there is a V2.4. I looked at the PCB but I'm unsure what changed. Can anyone summarize it? Do I need to make any changes to the V2.2 PCB?
One final question. I have been using the terminal, but I want to use RS-485 for the actual installation. Do I need to use an RS-485 hat for the PI or is there another way to connect it?
Anyway, everything is working for one axis. I used DC motors. I printed in PETG. I can issue the commands from the terminal and it seems to do the right thing. Which is great. Here it is on the bench: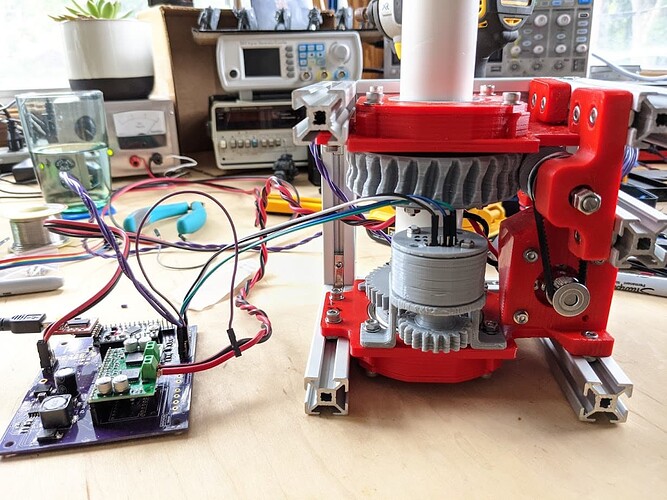 73
Chris
G0KLA / AC2CZ