I have a DAT-75 and a big pole that used to be a TV antenna but that seems like a big undertaking right now. I was wondering if there is any way I can get my existing setup to work a bit better. Work out the issue with a smaller simpler setup before I get something bigger and more complicated.
I am using these things…
Nagoya UT-72
RTL-SDR Blog R820T2
I did the recommended steps of setting up ntp, adjusting for frequency drift and entering my coordinates with as much granularity as I could possibly get. I try to schedule with satellites that have a high success rate.
And most of my captures look empty.
https://network.satnogs.org/observations/493927/
https://network.satnogs.org/observations/493969/
https://network.satnogs.org/observations/493921/
I know of a few improvements I could make but I don't know if they are small optimizations or my key to fixing things.
The coax from the antenna is long and ends with a long adapter. Then the long adapter goes to the sdr. I don't know if it is too long or not. Here is a picture.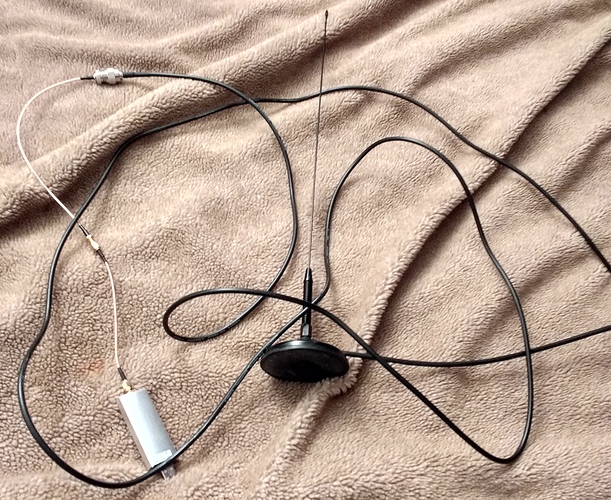 I have my setup indoors, but I heard that 400 Mhz didn't have trouble with walls so I am not sure. I can't really take the setup outdoors to test all that easily.
I have an LNA but it didn't seem to help for satnogs and in gqrx it added a lot of noise everywhere. I am using it with the recommended voltage, and it is the most highly rated one on Amazon. I thought it had a better NF then my rtlsdr. When are you supposed to use an LNA and where in the circuit does it go? Is there anything else I should add? I was thinking of getting the FM bandstop but I want to know if it will help before I drop more money into that. I was pretty sure I heard FM terrestrial radio in the UHF band one time.
Thanks!