Hi!
Short introduction
You might remember KRAKsat, our always-rebooting space cube

. It was launched in April 2019 with Antares to ISS from which it was deployed (together with Światowid on 3rd July 2019). In short: it didn't work at all at first, then it was operational for 2 weeks but because of other errors we were unable to perform the mission objectives, and finally it became stuck in the reboot loop in which it stays till now.
As the ISS orbit is sometimes synchronized with sun, putting the satellite in constant sunlight for even a few days a year (about what I wrote e.g. here: Satellite's orbits - a practical overview | alicja • space), when first situation like this took place, we tried to "save" it or, at least, download any data that could be not corrupted. It turned out that rescue cannot be accomplished but we managed to confirm that there is no correct data stored in the satellite's memory - at least I could (with sadness) accept the mission as unsuccessful.
Thank you, SatNOGS
SatNOGS community was extremely helpful at all times. First, when KRAKsat was silent, your observations allowed us to confirm that it's not transmitting all over the world, and what's even more important - I found the first transmitted beacon on SatNOGS! Without your help, it could take even several hours or few days more to just discover that it is, in fact, working, so we are extremely thankful for that!
In December 2019, when all-sunlight period took place, I wrote a post here with request about scheduling observations (KRAKsat Satellite - #32 by yiea) during the rescue mission. And once again - you didn't disappoint us, scheduling so many observations that (besides trying to perform communication sessions), we spend all days and nights going through pages of waterfalls. It was simply amazing. I am in endless debt to you.
Last two weeks in orbit
KRAKsat is now around ~280 km above Earth. It will took it probably around 2 weeks to completely burn in the atmosphere (I'm comparing with Światowid, which deorbited in March this year, and was launched in the same time).
If you want, it is the last chance to listen to it and see what will the final reboot number be

. It is not critical this time, only out of curiosity - if you want to schedule some observations for the next 2 weeks, you are welcomed to do so.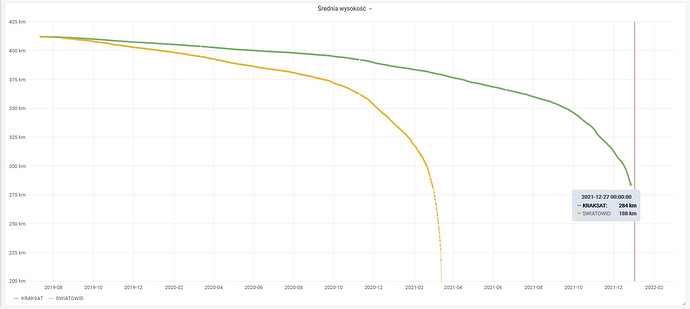 To be honest I still cannot believe that this space adventure is coming to an end.
Once again - thank you all for participating, it was a great pleasure

. I'm working on another satellite now (Intuition-1) which is a commercial project in the company I work for (KP Labs) - but we are also providing on-board computer for another polish student CubeSat - PW-Sat3

. So I hope that one day, we will listen for it, together!
If you want to read more about KRAKsat failure, here are two links to publications:
And you can find amazing SatNOGS dashboard here: Grafana
Thank you in advance for listening and have a great new year!