EDIT 2018-07-04T06:30:00Z: Mistakes always happen, having an amazing community to help you spot and fix them is the best part of the project, thanks @KD9KCK. I have updated the observations so now only observations of the event are shown. Changed stats after the fixes are marked in bold.
EDIT 2018-07-04T06:18:00Z: Some of the observations bellow doesn't belong on this event… working on fixing the script that automatically calculate that. This means that stats maybe are a little different. I'm sorry about that.
SSTV will once again be active from ISS starting June 29 about 09:00 UTC. These images will commemorate the various satellites that were hand-deployed from the ISS. These will include the first satellite deployment from ISS: Suitsat-1/Radioskaf-1 which was developed by ARISS and deployed in February 2006. The transmissions should continue until July 1 ending about 18:30 UTC.
Update July 26
Downlink frequency is expected to be 145.80 and the mode should be PD120.
** Update** June 28
Looks like there will be an award assiociated with this session. Details at ARISS SSTV Award
Update June 29
Images are being transmitted. It does appear that the images are being clipped on the left and right edges due to a formatting issue.
Source: ARISS SSTV blogspot
a map of the network stations that returned data (special thanks @kerel for it):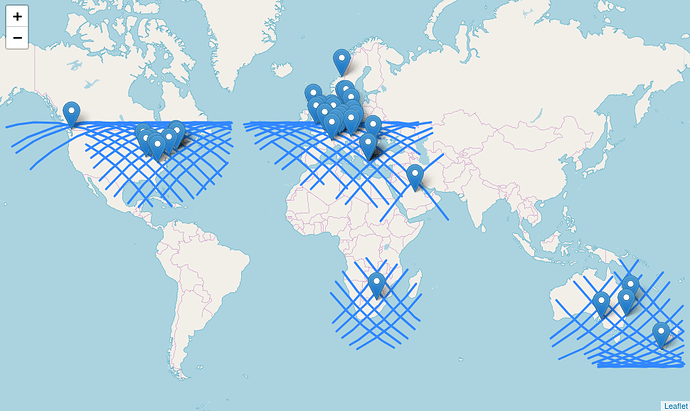 Some statistics and info:
12 images were transmitted. Satnogs stations managed to receive (completely or partially) all of them.
Total duration of the event: 58h and 30min
Total coverage from satnogs network: 15h 39min 21sec which is ~26.76% of the total event time.
Total time of observations (includes overlapped observations): 3d 0h 20min 18sec
Total satnogs observations vetted as good: 416
Total satnogs observations with images decoded: 333 observations with 624 images decoded (two of them, probably was someone trolling - check obs 170498) which is 1.87 decoded images per observation. Some of them were partial, some other complete.
Observations - click here to see them all