This launch is apparently at 00:50Z:

That TLE doesn't meet the spec and so I can't make it work in gpredict to figure out when the first pass is going to be over my location…
This should be the right allignment:
NEXUS
1 99999U 99999A   19018.08240741 0.00000000  00000-0  00000-0 0  9995
2 99999  97.2200  80.5863 0014000 196.1000 199.2528 15.22513194    08

The launch schedule:
 Event                           T        Altitude
                                 HH:MM:SS     km
--------------------------------------------------
 liftoff                         00:00:00      0
 RAPIS-1 separation              00:51:55    514
 RISESat separation              01:03:20    510
 MicroDragon separation          01:05:00    511
 OrigamiSat-1 separation         01:06:40    512
 NEXUS, AOBA-VELOX-4 separation  01:08:20    514
 ALE-1 separation                01:10:00    516
Satellites have been added in db and have been scheduled for the first 12h in network.
99908 Microdragon
99907 OrigamiSat-1
99906 AOBA VELOX-IV
99905 NEXUS
NEXUS, AOBA VELOX-IV and OrigamiSat-1 transmit in UFH and Microdragon in S-band.
Please in case you are going to schedule one of these satellites, try to leave timeslots for the rest.
Thank you!
Time to try another program. Install sattools, heavensat or the multitude of other trackers and you will have more options when it comes to 'raw' TLEs.
By the time this satellite is visible to you ST will have elements posted as well.
Scott
Until now there are reports for OrigamiSat-1 and Nexus that they are alive:
Haha, I did good,



Spacetrack has issued elements for 7 objects.
43939 appears to be the Post Boost Stage (PBS) as it has a very low perigee indicative of having been manoeuvred to deorbit quickly. It is running 'really early'.
The 'early' group of two objects is 43932 and 43933. The later appears to be NEXUS.
The 'mid' group is also two objects 43934 and 43935. MicroDragon is best fitting 43935 this evening but residuals are close to 43934 as these objects are closely spaced.
The 'late' group is also two objects 43936 and 43937. 43936 appears to be OrigamaSat-1.
RISESat may be IDable as it has a posted S-band transmitter. No signals heard from
AOBA-VELOX-4. Rapis-1 uses X-band and ALE-1 has an unknown QRG.
So if I'm counting correctly we are missing one object. Which I assume will be sweep up by the USAF tomorrow.
Here's a link to some strf analysis.
Regards
Scott Tilley
VE7TIL
Thanks for this analysis! I've just updated the TLEs in network accordingly.
It looks like 43938 fits better NEXUS: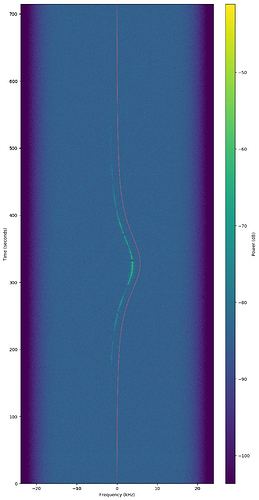 waterfall is from
SatNOGS Network - Observation 418581
Confirmation from PA0DLO:
OrigamiSat-1 looks to fit one of 43933-43935. I've chosen 43934 for now.
For NEXUS now there are more TLEs that fit, we need some more time to find out which one, still continue to use 43938 on network.
Further updates from Spacetrack now produce 9 TLEs from the 2019-003 launch as of Jan 19th, 00:00UTC.
The data is now forming a longer arc and IDs of the satellites are firming up nicely. Please note I use a GPS disciplined receiver to reduce error and base the identifications on all data captured since launch.
OrigamiSat-1 best fits 43933, Object B:

MicroDragon best fits 43935, Object D:

NEXUS best fits 43937, Object F:

An interesting study would be to compare released TLEs to see how they compare with each other as they sort out the objects.
Regards,
Scott Tilley
VE7TIL
I should also note, no observation of AOBA-VELOX-4 on 437.225MHz since launch.
Pretty good one. Let's wait if it hits a watchdog reset