Hi! I don't know if the category is good and I wasn't even sure if I should publish this thread but maybe someone could find it helpful

I wrote a step by step tutorial about designing a simple LNA with a bandpass filter for 400-440 MHz from a beginner's perspective - maybe there are some other beginners in radioelectronics here for whom it might be interesting. When I started this project, I couldn't find any information about how to start designing this kind of thing - there are some photos of PCBs in the internet but no one shared their experience about how to make it from scratch (or at least I didn't find anything - if you know any good source, you're welcome to share it, I'm interested!).
You can find the whole text here: Designing an LNA with bandpass filter for 430 Mhz – from a beginner's perspective | alicja • space
And the project on my Github: GitHub - alicjamusial/LNA: LNA with filter for 400-440 MHz (UHF for amateur satellites)
This LNA+filter is now connected to my test ground station (SatNOGS Network - Observations). As I wrote in the article, the observations are better than without it (and better than with cheap one bought on eBay

).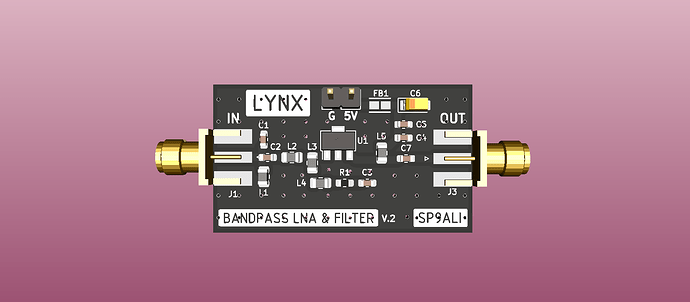 If you have any comments, feel free to share it - remember only that I'm a total beginner and not a professional, so please, try to not be too harsh

. Have a nice day!