Hi all,
We are designing and building a SatNOGS station that will be deployed in Alaska in a couple months. Some details are temporarily confidential like exactly where it is going, but there are some unique challenges to this location. Namely, we must mount our antenna to a mast that has an existing 500W 400MHz transmitter and a 150W 437MHz transmitter, and we must be very close (1-2m away). The reason we have to be this close is to point North towards the pole (for best visibility of polar sats), we need to be up high to clear the roofline. It's also a very high priority to cover 400MHz from this station so we can't just filter out the 500W transmitter.
Here's a cropped view of the existing hardware, we'll probably be around 2 or 3: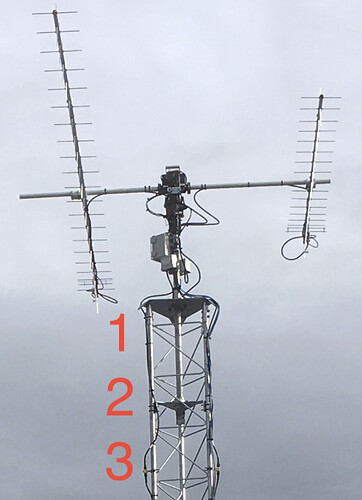 The TX yagis are on a 2-axis rotator and although we're definitely close, we are outside of the direct line of fire. We will definitely be concerned about backlobes and sidelobes though. The duty cycle of the transmitters should be very low - they are transmitting to a CubeSat in LEO. Our RX antenna will be statically mounted (~45deg elevation) and pointed North for best visibility of polar satellites as previously stated.
The biggest risk in this setup is the received power seen at our antenna/LNA. I am not an expert on this type of calculation, so as a first approximation I used ChatGPT and some online calculators and came to an estimated max input seen at our RX antenna of 42dBm. If someone here thinks they can make a better approximation I would greatly appreciate it!
This station has to be very reliable - if something breaks, we're not gonna get a chance to fix it for years potentially. We do have a budget allocated for this setup and currently have some room so if there's a higher quality / more robust part you'd like to see here then please let me know. I would like to place a better computer there and ideally have some form of out-of-band access (PiKVM?).
Here's a BOM for the most critical parts:
Pasternack PE51YA1015 UHF Yagi, 400-470MHz, made for harsh conditions and has a relatively wide beamwidth of ~50-70deg
Pasternack Lightning Protector
Qorvo TGL2210-SM Limiter, first line of defense for TX
MiniCircuits 400-510MHz BPF Filter out-of-band interference (expected to have lots of it)
MiniCircuits ZX60-P103LN+ LNA Wideband LNA with high max-input power
MiniCircuits Bias-T ZFBT-6GW-FT+ Bias-T to power LNA, one inside and one outside
MiniCircuits ZFLM-252-1WL-S+ Limiter, bring down levels to a survivable point for USRP
MiniCircuits 3dB attenuator Need to drop down the output level just a lil bit more in the worst case to protect USRP
USRP B200mini, max input level 0dBm
All parts will need to be ordered next week in order to assemble, test, and ship everything.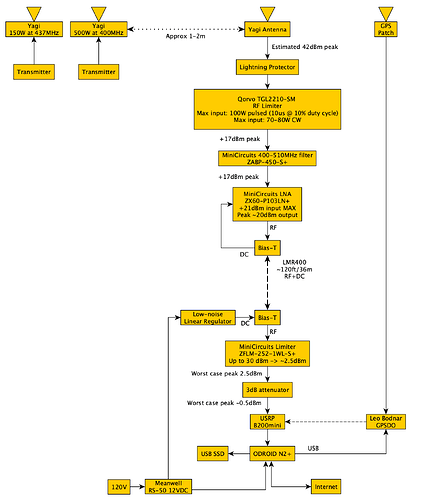 Thanks,
Kevin