We just got our Airspy SDRs delivered to evaluate them as options for a typical satnogs setup.
Although our setup will work with Gnuradio directly, we would also like all our SDRs to work with the fantastic gqrx by @csete for quick debugging of our setup.
Trying to connect airspy with gqrx is not working for me right now. With Airspy plugged in, gqrx is not presenting it as an option.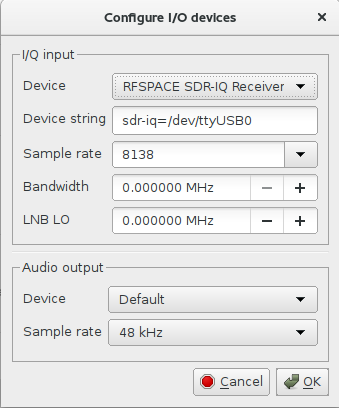 dmesg output when plugging Airspy in:
[94777.596588] usb 2-2: new high-speed USB device number 26 using xhci_hcd [94777.761157] usb 2-2: New USB device found, idVendor=1d50, idProduct=60a1 [94777.761160] usb 2-2: New USB device strings: Mfr=1, Product=2, SerialNumber=3 [94777.761161] usb 2-2: Product: AIRSPY [94777.761163] usb 2-2: Manufacturer: www.airspy.com [94777.761164] usb 2-2: SerialNumber: AIRSPY SN:644064**********
This is on Fedora 23 (on multiple machines) with latest packaged gqrx 2.3.2
Any ideas @csete ?