I'm setting up a new (for now omnidirectional) station 1450 - Northampton. I'm having the usual two steps forward one-step back with some of the instructions but am trying to comment and fix the wiki where possible.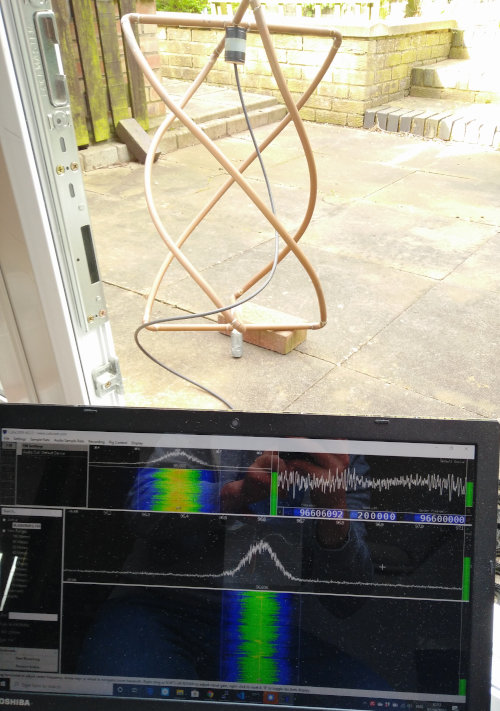 I've used an old QFH antenna built ~20 years ago which I successfully used for weather satellite APT receiving at the time so it will be interesting to see how results compare.
My station is now in testing state and does seem to be receiving some satellites, albeit with relatively weak signals. It's a bit of a bodge for now, just outside the living room door (and cold!) rather than in the loft where I intend to install it permanently. I therefore only get a good view of high elevations to the west for the time being. I can get a good signal on a local FM station as pictured and have fiddled with the gain on 137 MHz for best results.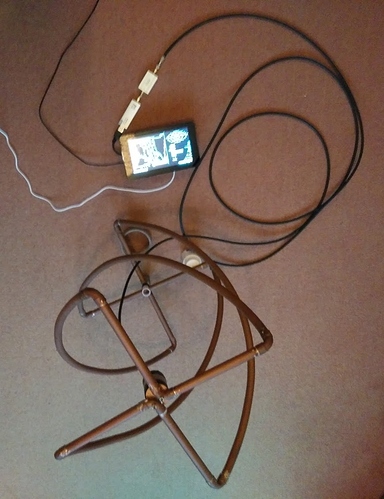 Following the Omnidirectional Station How To I've hooked up the antenna to a couple of metres of what I think is RG6 coax, to a Wideband LNA followed by an RTL-SDR v3 SDR. Obviously, it would make more sense to put the LNA closer to the antenna but I'm short of the right connectors right now. Will it make much difference putting it on the wrong end of this a short run of cable? Am I overloading the LNA by putting it so close to the SDR? I've also got a FM band stop filter but am assuming that's best left out for now.
Although clearly it's not a strong signal, I was pleased with a NOAA 19 observation earlier as it's got some semblance of the calibration bands visible. This suggests things are working.
Similarly, my very first successful waterfall shows a promising signal if not quite in the centre of the waterfall. It also doesn't look much like BPSK. This observation happened very soon after I'd fixed an issue preventing the waterfall being stored. Is this likely a local signal where the doppler shift hasn't happened? Later observations show a lot more doppler in the background noise.
So, I'm assuming the main issue is setting my gain appropriately? (Currently set to 10.) Again following the Omnidirectional Station How To(Omnidirectional Station How To - SatNOGS Wiki) I had a go with various gains in CubicSDR with and without the LNA in-line and powered up. I appreciate the instructions there, but is there a rule of thumb of how much 'blue versus yellow' I should be aiming for on the waterfall?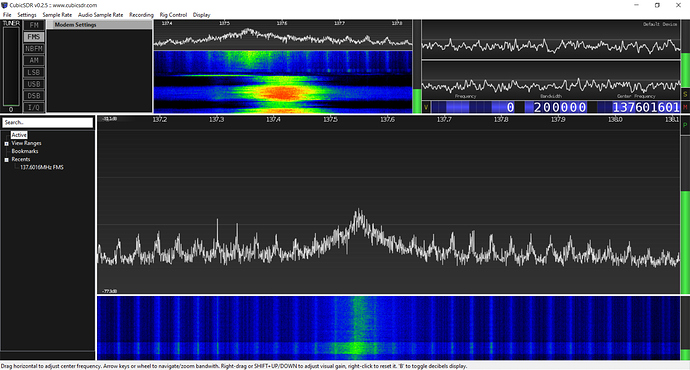 I also seem to be getting a fair bit of harmonics - what's the likely cause of this? I presume it's local interference as it's quite regular across the 200kHz sample. Or is this too weak compared to the signal for me to worry about?
Not necessarily looking for answers, but would appreciate some pointers on where to look and what to try.
Cheers,
Mat