This is my station setup using a Z90 plastic box.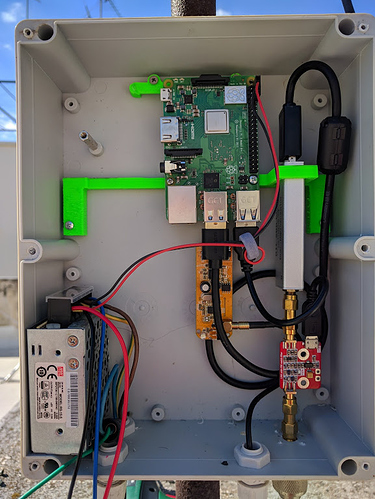 I have created 3D printed mounts for RPi and Pine64 in FreeCAD
Nice mounting arrangement, but I'm sorry to say that that placing that box anywhere near your RX antenna is a surefire way to end up with an elevated noise floor on your station.
I've seen a lot of stations like this, and just clipping on a few ferrites is not really sufficient. Realistically the only way to properly have all the equipment you have there so close to the antenna is to have it in an entirely shielded and earthed box, and even then you can still have issues.
What i'd suggest you try is hook up a laptop computer to the RTLSDR, and apply/disconnect power to the box, and watch the noise floor on the receiver. If you don't see any change then fine - you've lucked out. Otherwise, i'd be suggesting separating the receiver box and antennas as much as possible. This may mean leaving the preamp up near the antenna for best system noise figure.
I was thinking of doing something similar, and I'd mount the SDR and PIs at ground level for ease of access. There would be a smaller equipment box at the antenna for front-end filtering (FM Broadcast bandstop for now) and and LNA. (If I skip the LNA, it can all go at ground level). LNA power would either be Bias-T or separate DC line depending on what I end up using. An alternative is a USB extension to get the SDR close to the antenna and keep everything else indoors; CAT-5/6 even outdoor rated is way cheaper than low-loss coax. de KS1G