Indeed frequency/mode/tle confirm that is AAUSAT-4
Here is a screenshot from gpredict at the time that both signals are visible: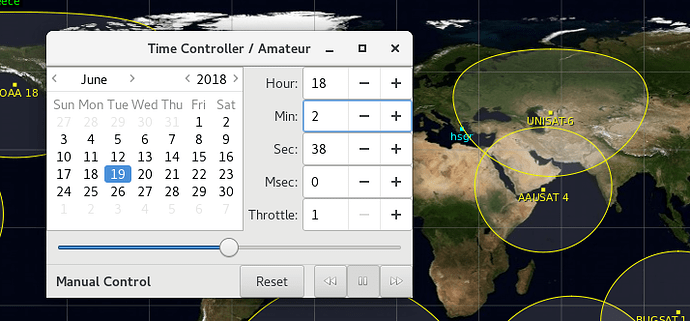 AAUSAT-4 continues to North and UNISAT-6 to South, this is why you don't see them near each other.
However, @WA4OSH, Observation 164416 of AAUSAT is another one meetup of AAUSAT-4 and UNISAT-6, again heading towards opposite directions.
Fredy,
I just installed gpredict. I will need to learn how to backtrack to prior dates and install satellites and SatNOGS friends. Thanks!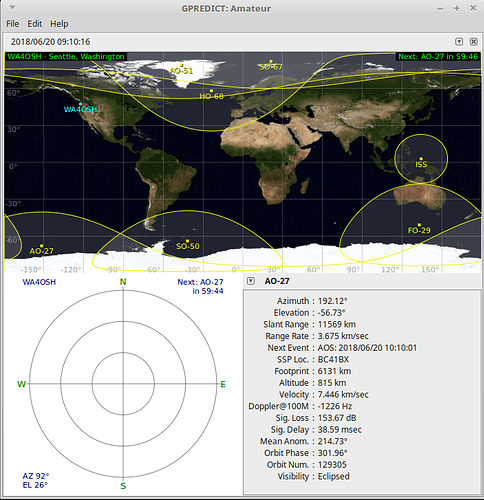 –Konrad
Directional antenna will probably help to isolate this. It is getting crowded up there. Looking forward to see more of these out of interest, but less to minimize decoding issues

. Aausat 4 has got a unique waterfall signature i.e. horisontal and vertical lines like skcube
Which Version of gpredict do you use?
The vertical lines are the CW beacon

Patrick,
I downloaded the latest copy of gpredict for my Linux Mint laptops here:
https://community.linuxmint.com/software/view/gpredict
Yes, I left a note to @fredy on the user review

I believe this is version 2018-02-28. They have copies for BSD, Windows, Mac, and Linux here:

–Konrad
You could simply open the about dialog in the help menu

I'm on break at work. I;)
–Konrad
@DL4PD Here you are …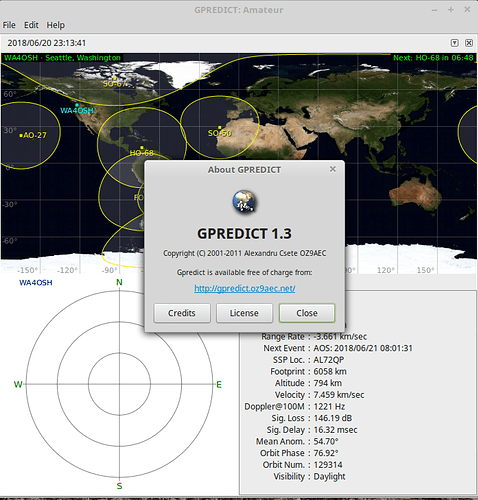 –Konrad
OK, it was just a feeling, but it was right!
Please do not use this old version. It has some real bugs and is no longer supported.
You can install a current one for ubuntu and derivates from PPA:
Patrick,
On my Linux Mint laptop, I added the PPA and did the apt-get update without errors. I still have gpredict 1.3
–Konrad
I don't know much about Mint, but have you tried to do the upgrade, too? What about reinstall? Or remove and install again?